Lesen Sie die deutsche Beschreibung
ALKA / PSION Organizer · Rare Version by Alka · 2 x 32 K RAM modules
Rare version of the PSION Organizer build by ALKA System. The systems software is in english. Good condition and comming with 2 x 32 K RAM Modules and the power supply adapter. A power supply is not included, I have used a standard PSU fot my test. I do not know more about this Organizer, following Text is taken from the internet. Please see the Photos.
The Psion Organiser was the brand name of a range of pocket computer developed by the British company Psion (now Psion Teklogix) in the 1980s. The Organiser I (launched in 1984) and Organiser II (launched in 1986) had a characteristic hard plastic sliding cover protecting a 6x6 keyboard with letters arranged alphabetically.
In 1986, the successful Organiser II introduced a number of hardware improvements, a better keyboard and display, a much larger ROM and either 8K or 16K of battery-backed RAM, and featured a capable newly-designed single-tasking operating system. The first Organiser II models featured a two-line display. The new model supported a number of different types of improved DATAPAKs containing either EPROM or battery-backed RAM storage each storing between 8k and 128k of data. Later flashpaks (EEPROM) and RAMpaks were added to the range, capable of storing up to 256k on each extension slot.
The machine had vastly more application functionality, including a number of built-in application programs, a diary and alarm clock, and featured end-user programmability in the form of the successful Organiser Programming Language (OPL), a BASIC-like language which was compiled to intermediate code, in contrast to the interpreters which were commonly available for other consumer computers of the time.
More advanced users could reach into the system machine code routines either via direct machine code, or via calls from OPL. The Organiser II was widely used for commercial applications in companies such as Marks and Spencer, where it was used on the shop floor, and in the world's first large scale application of mobile technology in government where over 3000 were used for benefit calculations by the Employment Services department of the UK government.
The Organiser II also had an external device slot into which various plug-in modules could be fitted, including a device which providing an RS232 port (called 'CommsLink') to enabling it to communicate with other devices or computers. This "top slot" also supported various other hardware additions, such as telephone dialers, a speech synthesiser, barcode reader and even a dedicated thermal printer. This latter was used by several banks as a counter-top exchange rate calculator for some years.
As it was easy to get hardware specifications, numerous bespoke devices were developed by small companies such as A/D converters and even an interface to the entire range of Mitutoya measuring equipment, allowing it to be used in quality control for various car manufacturers. Later models in the Organiser II range offered other hardware improvements, with 4-line displays, and also models were introduced with 32, 64 and 96KB RAM. Third party software, such as the rudimentary word processor sold by Widget UK took advantage of the larger display.
On an episode of The Gadget Show (first aired on 30 March 2009), the Psion was pitted against the BlackBerry for a place on the show's Hall of Fame[1]. Whilst the Psion was highly praised as a device that pioneered portable computing, the accolade was ultimately given (by host Jon Bentley) to the BlackBerry.
Related Links:
---
ALKA / PSION Organizer · Version von Alka-System · 2 x 32 K RAM
Organizer von Alka System - eine seltene Version des PSION Organizers. Ist getestet und kommt mit 2 x 32 K RAM Modulen und dem Netzteilaufsatz. Netzteil ist nicht enthalten, ich habe ein standard Netzteil zum test benutzt. Guter Zustand, scheint kaum genutzt. Mehr kann ich zu dem gerät nicht sagen, ich habe es nie benutzt. Mehr Infos zu dem Gerät im englischen Text.
Photos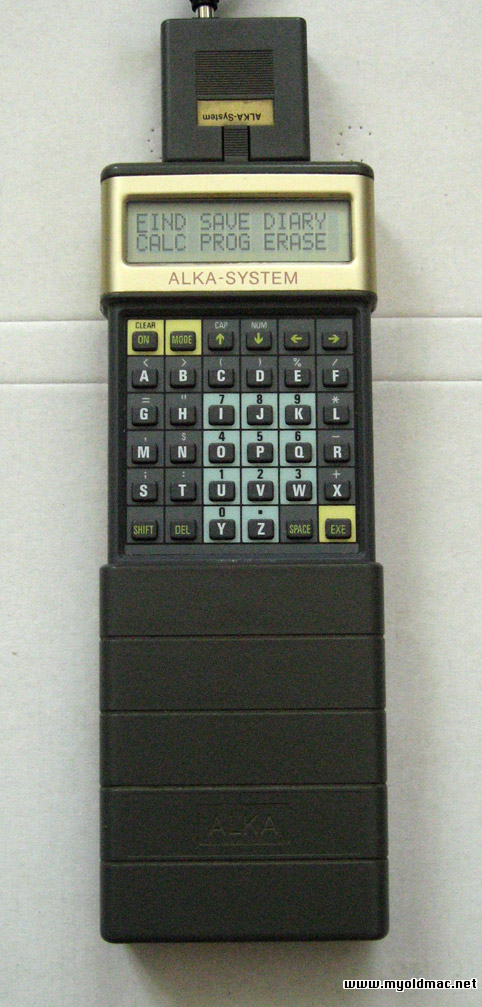 ALKA-SYSTEM version of the PSION Organizer in very good condition, tested
ALKA-SYSTEM version des PSION Organizers in sehr gutem Zustand, getestet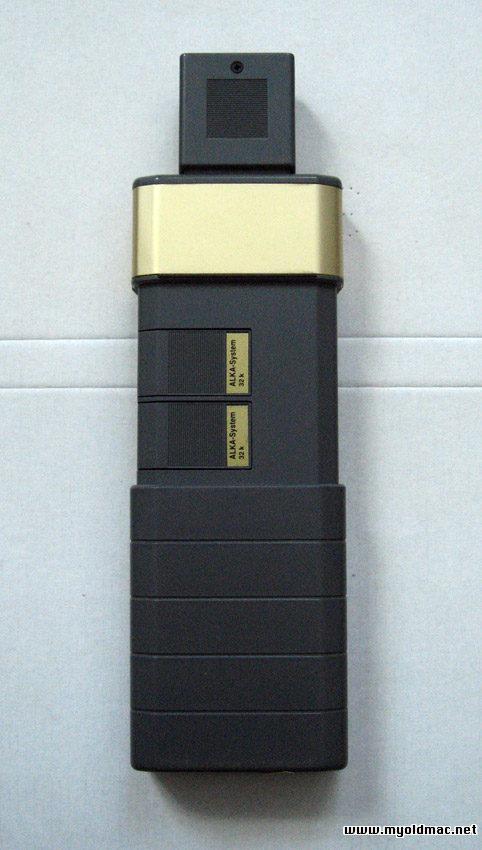 The backside with the two 32 K RAM modules, nearly no signs of use
Die Rückseite mit den zwei 32 K RAM Modulen, es gibt kaum Benutzungsspuren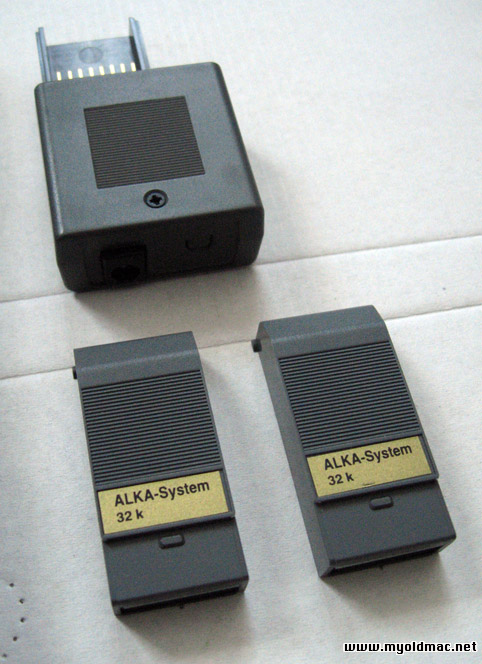 The power supply adapter and the two RAM modules
Der netzteiladapter und die beiden RAM Module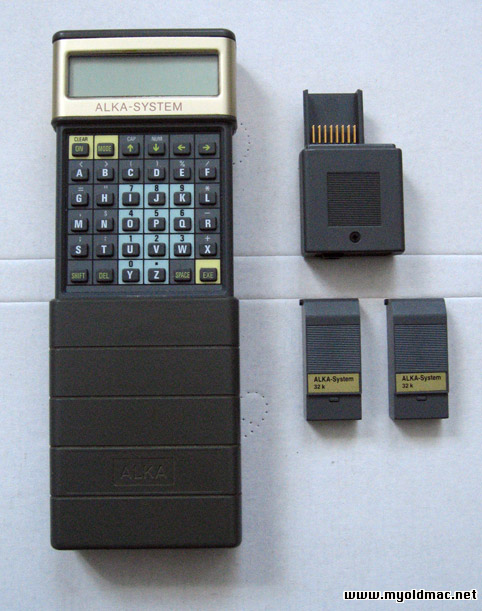 The complete set for this auction
Das komplette Set in dieser Auktion