Lesen Sie die deutsche Beschreibung
Atari Track & Field controller · Model ID: CX26125 ·
Rated as Rarity: 5 - Rare by atariguide.com this controller features a design similar to the arcade version. Sold with Track & Field, but also available separately for use on other systems. Will work with any game, but it only offers left/right/fire functions. It works surprisingly well, and certainly adds a new dimension to Track and Field. The controller is in unused condition - please see the Photos.
One of the best coin-op conversions available for the Atari 2600, this one must be played with the Track and Field controller for the best experience. It was sold in an oversized box (not included) that included the controller, although the controller was also sold separately for use with other systems such as the Commodore 64 and various Atari computers.
Track & Field is a sports game that allows the player to have an experience based around the Summer Olympic Games. It is based on an arcade game of the same name. Events include 100 meter dash, hammer throw, the long jump and the 110 meter hurdles. If you want to go to the next event or round then you will have to qualify, by beating increasingly difficult maximum times or minimum distances. This game contains a two player option, in which the players take it in turns. The Atari game also lets you choose from three difficulty levels: Novice, Arcade and Expert.
The Official Video Game of the 1984 Summer Olympic Games, Track & Field lets you or you and a friend compete in six classic Olympic events: 100-Meter Dash, Long Jump, Javelin, 110-Meter Hurdles, Hammer Throw and High Jump. You must make a qualifying score in each event in order to move on to the next event. The game was originally packaged with a special controller for use in simulating running. To gain speed, the two buttons had to be pushed sequentially over and over as quickly as possible. A joystick can be substituted for this controller, where the two buttons are simulated by left and right joystick movement.
Related Links:
---
Atari Track & Field Controller · Model ID: CX26125 · -
Verkaufe den super seltenen TRACK AND FIELD Controller für ATARI 2600. Diesen Controller benötigt man für das beste Sportspiel auf dem Atari 2600 - Track & Field. Ohne diesen Controller macht das Spiel keinen Spaß.
Photos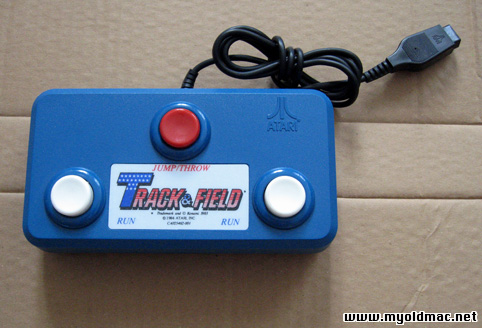 Atari Track & Field controller · Model ID: CX26125 · by Atari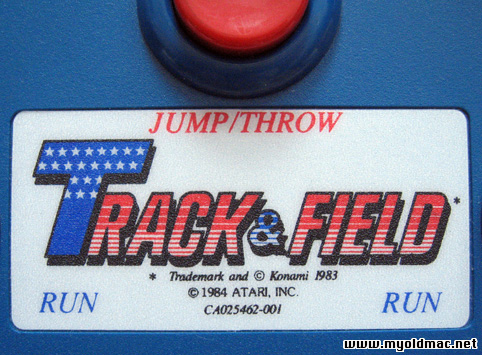 Atari Track & Field controller · Copyright by Konami · by Atari Inc. 1984, good condition