Lesen Sie die deutsche Beschreibung
ENTEX - PacMan2 Handheld Tabletop for two players! 1981 - VFD Display
Entex PacMan2 tabletop console, in good condition - with styrofoam in original box and instructions. Both battery compartments are clean and both covers are included, on one cover the closer has brocken (but is included). Please see the Photos.
Case and electronics designed and programmed by Entex Tokyo Entex Pac Man 2, based on Bally/Midway's Pac Man arcade game. Called Pac Man 2 because it allowed two people to play at once (there is no 'Pac Man 1').
Player one would be the Pac Man, player two would be the ghost chasing him (in this mode, there is only the one ghost). One player could also play Pac Man normally with the difficulty setting determining whether there are 2, 3, or 4 ghosts chasing you. It was also released in Japan with a different name: Hungry Pac.
This electronic game has a built-in adapter jack. When the adapter is used, no batteries are required. It accepts Entex #6060 6V Adapter (not included).
Related Links:
---
ENTEX - PacMan2 Handheld Tabletop für zwei Spieler! 1981 - VFD Display
Die legendäre PacMan2 Tabletop Konsole von ENTEX (nur Verkauft in England und Japan), in sehr gutem Zustand, mit original Verpackung, Styropor und englischer Spielanleitung. Sehr selten in Deutschland zu finden in diesem Zustand.
Das Spielprinzip eignet sich jedoch nur bedingt für ein Display, das verschiedene Objekte nur nebeneinander platzieren kann. PacMan und Gespenster werden dadurch sehr winzig. Das tut der Spielfreude aber keinen Abbruch. Der zweite Spieler steuert bei diesem Spiel das Gespenst (in diesem Modus gibt's dann nur eines, sonst bis zu vier)
Photos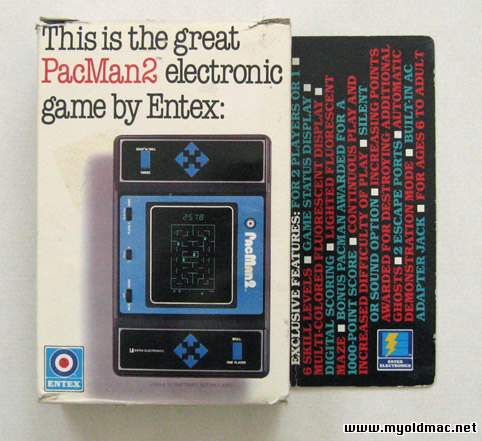 ENTEX - PacMan2 Handheld Tabletop - Original box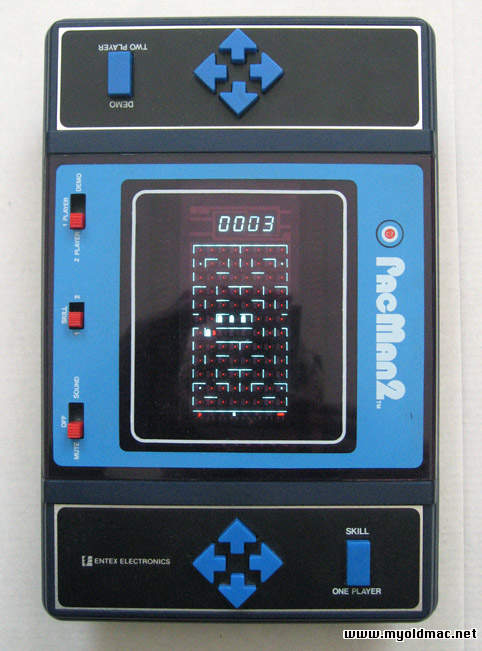 ENTEX - PacMan2 in great condition, all buttons and switches work reliable
ENTEX - PacMan2 in gutem Zustand, alle Knöpfe und Schalter funktionieren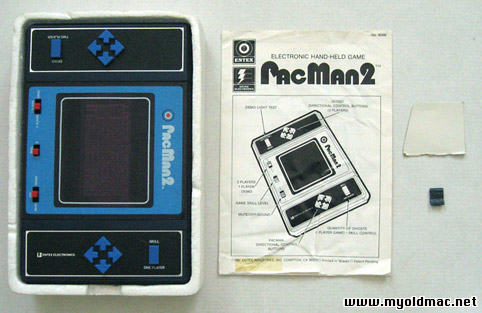 Including Styrofoam, instructions, on lose box part, also the battery compartment lache
Mit Styropor, Manual, einer losen Boxenkante und dem abgebrochenen Teil des Batteriefaches.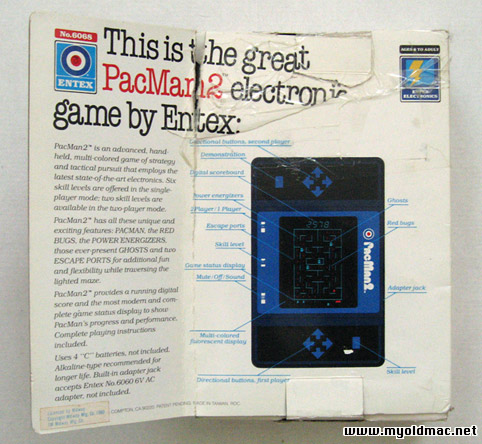 Backside of the box, has been covered partial with transparent plastic tape
Rückseite der Box, teilweise mit transparentem Klebeband "repariert"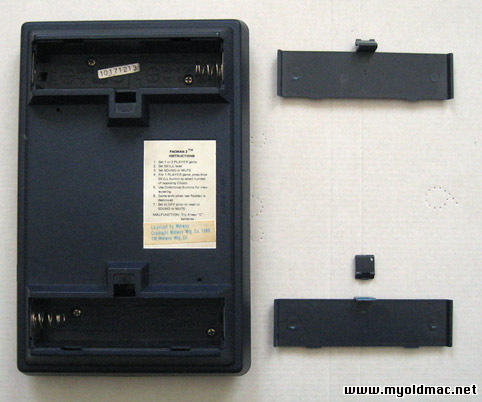 Battery compartments are clean, one of the two laches has brocken of but is included
Batteriefächer sind sauber, eine der Deckellaschen ist abgebrochen aber enthalten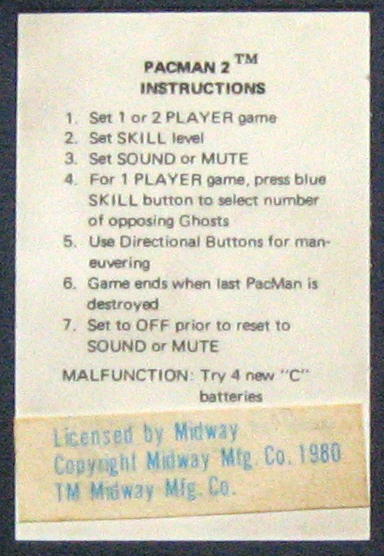 The game seems to be licensed after the production, there is a license sticker on the back
Das Spiel wurde offenbar erst nach der Produktion lizensiert, mit Aufkleber vermerkt