Lesen Sie die deutsche Beschreibung
Grundig Super Play Computer 4000 · Germany, 1978 -
Here you find other vintage computer collectors items.

Manufacturer: Grundig
Production: 1978
Model Super Play Computer 4000
Data Medium: Cartridges (Interton VC 4000 Cartridges)
Ports: Cartridgeslot, 2 Joystick-Ports
Joypad: 2, analog
Specials: TV-Connector only for Grundig-TV, Interton VC 4000 compatible

Same as the Interton VC 4000 but it can only be hooked up to Grundig tv-sets. The Computer is untested, sold without guarantee.
The Super Play Computer 4000 is an early 8-bit cartridge-based game console released in Germany in 1978 by Grundig. The console is quite obscure outside Germany, but many software compatible systems can be found in many European countries (see 1292 Advanced Programmable Video System). It's unclear if Interton really made the VC 4000 from scratch or if they bought the rights and the design to produce it, as many other brands produced similar systems the following years.
The VC-4000 consoles have an 8-bit Signetics 2650AN CPU thats runs 4.43 MHz. Their Audiovisual co-processor (video chipset, I/O Processor) Signetics 2636N at 3.58MHz, Data Memory of 43 bytes, 4 single colour sprites and 1 possible 8-colour sprite. The two controllers are composed of a 12-key keypad, 2 fire buttons and an analog joystick. On the control panel of the system, one can find an on/off switch and three buttons: RESET, SELECT and START. The only relation ship between the various VC-4000 consoles and the varions Arcadia 2001 consoles is that the two use the same CPU.
Related Links
---
Grundig Super Play Computer 4000 · Germany, 1978 -
Hier finden Sie meine anderen Computer Sammlerstücke.

Hersteller: Grundig
Model: Super Play Computer 4000
Datenträger: Module
Schnittstellen: Modul-Schacht, 2 Joystick-Ports
Joypad: bis zu 2, analog

Architektur nahezu identisch mit Interton VC4000,
durch speziellen TV-Anschluss wahrscheinlich nur mit Grundig-Fernsehern kompatibel, Spiele-Kassetten kompatibel mit Interton VC4000

Der Grundig Super Play Computer 4000 basiert auf Bausteinen der Philips-Tochterfirma Signetics, die vermutlich von der Firma UA Limited (Sitz irgendwo in Fernost) zu einem Baukastensystem ausgebaut worden waren, das an andere Hersteller lizenziert wurde. Um 1981 war der erste Lizenznehmer offenbar Interton, die daraus das VC-4000 bauten. Weitere (inkompatible) Varianten des Systems gab es ein Jahr später z.B. bei Quelle als Palladium Telespiel und in den USA unter dem Namen Emerson Arcadia.
Der Super Play Computer 4000 benutzt den Prozessor 2650A von Signetics (später Philips). Die mit dem Interton VC4000 fast baugleiche Konsole wurde von 1974 bis ca. 1982 gebaut, der Verkaufsstart war jedoch erst 1978 mit einem Preis von damals rund 500 DM. Anders als bei anderen Konsolen, die zu dieser Zeit auf dem Markt waren, gab es eine Vielzahl von Spielen, alle aus eigener Produktion.
Insgesamt 37 verschiedene Titel konnten für je 40 bis 50 DM erworben werden. Die Nummerierung der Spiele geht zwar von Nr. 1 ('AUTORENNEN') bis Nr. 40 ('SUPER-SPACE'), die bereits angekündigten Titel 34, 35 und 39 sind aber nie erschienen. Die Steuerung erfolgte über zwei Gamepads. Diese Pads mit Kabel hatten neben einem analogen Joystick 14 weitere Tasten. Die Spiele enthielten hierfür teilweise Papp-Schablonen ('Lochmasken'), die aus der Papp-Schachtel herausgetrennt werden mussten. Diese wurden dann auf das Tastenfeld gelegt.
Photos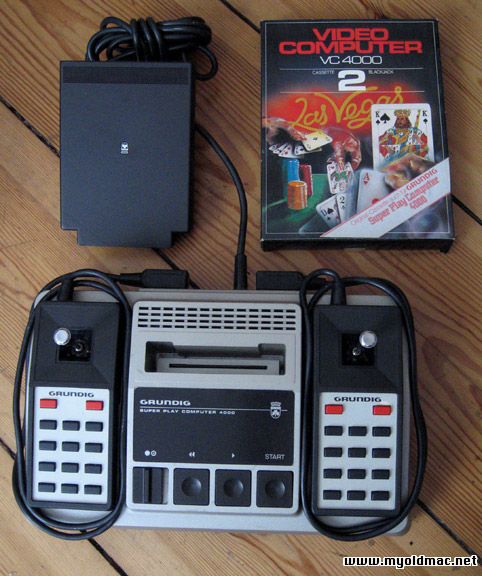 Grundig Super Play Computer 4000 · Germany, 1978 · Very good optical condition
Grundig Super Play Computer 4000 · Deutschland, 1978 · Sehr guter optischer Zustand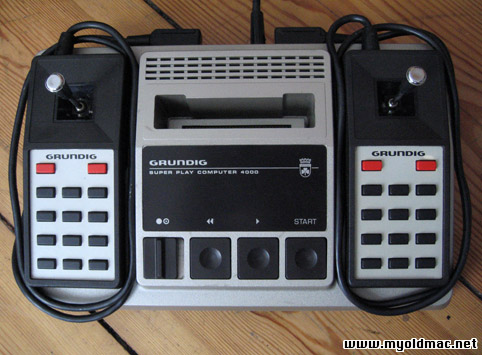 The console seems never used. You need a Grundig TV to display it - only for collectors
Die Konsole scheint nie genutzt - man benötigt einen grundig Fernseher um sie zu nutzen