Lesen Sie die deutsche Beschreibung
Multitech Microprofessor I (MPF 1) · in original box ·
Here you find other vintage computer collectors items.
Microprofessor I (MPF 1 - 1B), introduced in 1981 by Multitech, who changed their company name to Acer in 1987, was their first branded computer product and probably one of the world's longest selling computers. The MPF I, specifically designed to teach the fundamentals of machine code, is a simple and easy to use training system for the Zilog Z80 microprocessor.
Incl. original packaging, MPF-I User's Manual, MPF-I Monitor Program Source Listing, BASIC-MPF Operation Manual, BASIC-MPF keyboard template, Display Format On Basic-MPF stickers and European 220V/50hz AC to 9V DC power supply. This Microprocessor Training System is tested and in very good working order.
Here in one attractive package is a Z80 based microcomputer to lead you step by step to a thorough knowledge of the world of microprocessors. The Micro-Professor is a complete hardware and software system whose extensive teaching manual gives you detailed schematics and examples of program code. A superb learning tool for students, hobbyist and microprocessor enthusiasts, as wel as an excellent teaching aid for instructors of electrical engineering and computer science courses. But the Micro-Professor is much more than a teaching device. With it you can do bread-boarding and prototyping, designing your own custom hardware and software application with Z80, 8080 and 8085 compatible code.
The standard 2K bytes of RAM is expandable to 4K, and the standard 2K bytes of ROM can be increased to 8K. All this plus a built-in speaker, a cassette interface, and sockets to accept optional CTC/PIO. Bus is extendable. As well as being an exciting learning tool, the Micro-Professor is a great low-cost board for OEM's. MPF-Basic software is included in the ROM.
Hardware Specifications
CPU: Zilog Z-80 CPU with 158 instructions and 2.5 Mhz maximum clock rate. The MPF-I system clock is 1.79 Mhz.
ROM: Single +5V EPROM 2516 (2532), total 2K (4K) bytes. Monitor EPROM Address: 000-07FF (0FFF).
RAM: Static RAM: 6116, total 2K bytes. Basic RAM Address: 1800-1FFF.
Memory Expansion Area: Single +5V EPROM 2516/2716/2532/2732 EPROM or 6116 static RAM on-Board Expansion Address: 2000-2FFF.
I/O Port: Programmable I/O Port 8255, a total 24 parallel I/O lines are used for keyboard scanning and seven segment LED display control. I/O addresses: 00-03.
Programmable PIO, a total of 16 parallel I/O lines, I/O address: 80-83H.
Programmable CTC, a total of 4 independent counter timers channels, I/O address: 40-43H.
Display: 6-digit, 0.5", 7-Segment red LED display
Keyboard: 36 keys including 19 function keys, 16 hexadecimal keys and 1 user-defined key.

---
Multitech Microprofessor I (MPF 1) · in original box ·
Hier finden Sie meine anderen Computer Sammlerstücke.
Microprofessor I (MPF 1 - 1B) war ein Einplatinencomputer, der im Jahre 1981 auf den Markt gebracht wurde. Der Computer wurde von der Firma Multitech hergestellt. Der MPF I war ein einfach zu nutzendes Trainingssystem für den Z80-Mikroprozessor von Zilog mit einer Taktfrequenz von 1,79 MHz. Der Rechner war mit einem RAM von 2 KB (erweiterbar bis 4 KB) und einem ROM von 2 KB (erweiterbar bis 8 KB) ausgestattet.
Auf einer auf der Hauptplatine vorhandenen "User-Area" koennen eigene Versuchsschaltungen aufbebaut werden. Eine Schnittstelle fuer ein Kassettenlaufwerk ist vorhanden. Die dazu verwendeten "save"- und "load"-Befehle sind im ROM enthalten. Auf der Platine ist ein freier IC-Steckplatz fuer Eproms vorhanden. Darin koennen eingene Programme eingesteckt werden. Es gab auch ein Eprom mit einem Mini-Basic.
Schön als Buchform getarnt :-) . Auf der linken aufgeklappten Buchseite, konnten Erweiterungen eingebaut werden. Diese wurden mit einem Flachbandkabel mit dem Mainboard verbunden. Dieser Computer wird normaler weise in Maschinensprache (also in HEX-Code) programmiert. Über den dritten ROM Baustein, war es auch möglich in BASIC zu programmieren. Dies war aber sehr spartanisch und unkonfortabel. Die Lesbarkeit der Buchstaben auf der 7 Segment Anzeige ist sehr gewöhnungs-bedürftig, das manche Buchstaben groß andere wiederum klein geschrieben dargestellt wurden.
Photos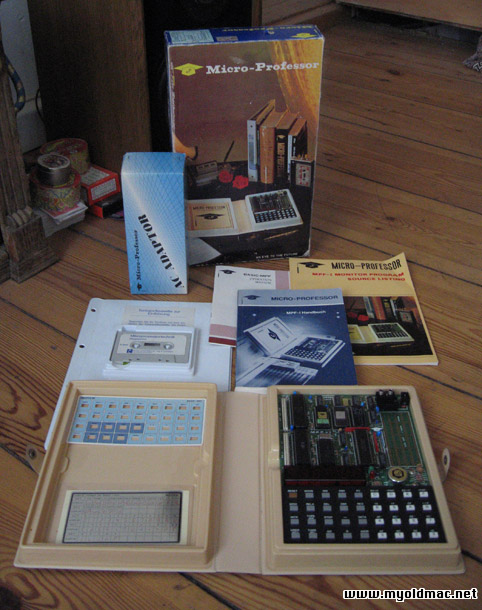 The Microtec Micro-Professor in its original box and package, including manuals and psu
Der Microtec Micro-Professor in der original box und Verpackung, Handbücher und Netzteil
The box is in very good condition
Die Box ist in sehr gutem Zustand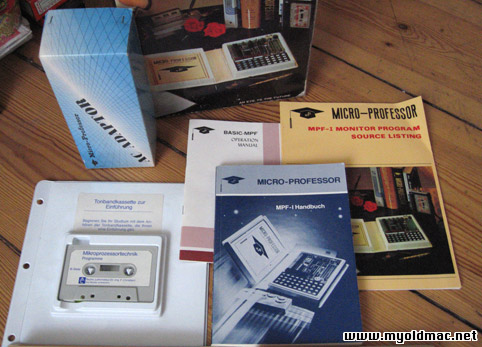 English MPF-1 - program source listing and BASIC MPF manual, german MPF-manual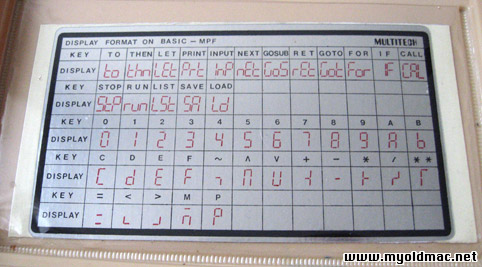 Display Format On Basic-MPF sticker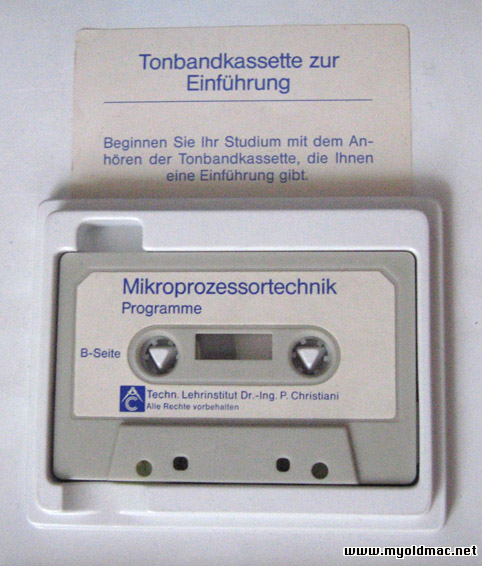 German Introduction Tape
Deutsche Einführungskassette - Programme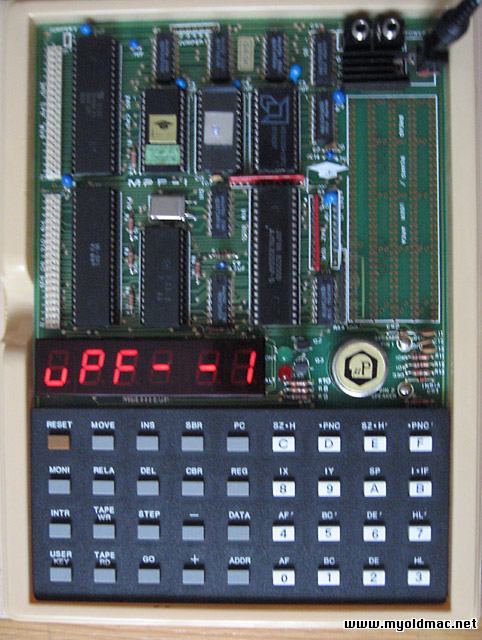 The Microcomputer is tested and works with the original power supply
Der Microcomputer ist getestet mit dem original Netzteil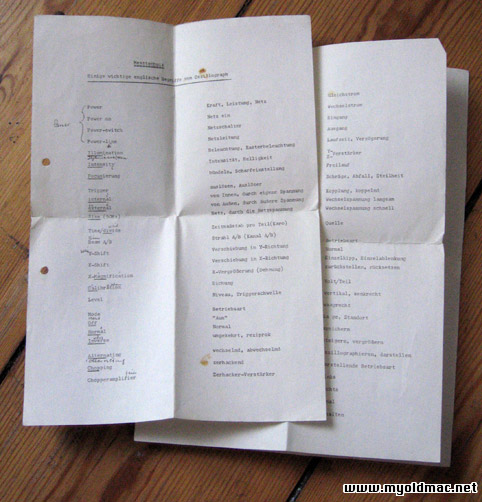 Including some typewriter notes about MPF-BASIC
Mit ein paar Seiten MPF-BASIC Informationen.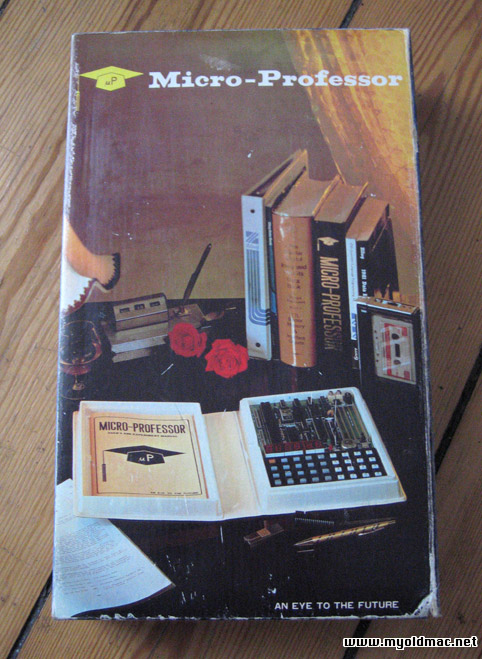 The original paperback box is in used condition but in good shape
Die Pappverpackung hat Gebrauchsspuren, ist aber gut in Form