Lesen Sie die deutsche Beschreibung
Official Royal Wedding Cube · Very rare collectible from 1981!
The ultimate collectable of 1981 in Britain was a Rubik's Cube showing Prince Charles and Lady Diana Spencer. The official Royal Wedding Cube. Commemorating the wedding of Prince Charles and Princess Diana, July 29, 1981. Please see the Photos.
43.252.003.274.489.856.000 combinations - 1 solution
The Rubik's Cube was invented in 1974 by Erno Rubik, a Hungarian sculptor and professor of architecture with an interest in geometry and the study of 3D forms. Erno obtained Hungarian patent HU170062 for the "Magic Cube" in 1975, but did not take out international patents. The first test batches of the product were produced in late 1977 and released to Budapest toy shops, although it did not enter the United States or Japan until 1980. Rubik meant to create the challenging cube with parts able to move around a center axis. He painted the faces of the cube different colors for demonstration purposes.
"It was wonderful, to see how, after only a few turns, the colors became mixed, apparently in random fashion. It was tremendously satisfying to watch this color parade. Like after a nice walk when you have seen many lovely sights you decide to go home, after a while I decided it was time to go home, let us put the cubes back in order. And it was at that moment that I came face to face with the Big Challenge: What is the way home?" - Erno Rubik
---
---
Deutsch · Der Offizielle Royal Wedding Cube von 1981, UK!
Der offizielle Royal Wedding cube von 1981.
Photos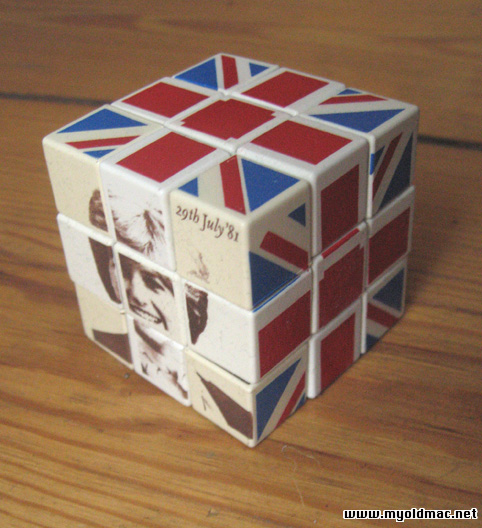 Rubiks-CharlesDianaWeddingCube