Lesen Sie die deutsche Beschreibung
Rubik´s Race · The Fastest Game In Town · Ideal Corporation, 1982
This great game is fully complete and in great condition with copied instructions
(Page 1 - Page 2). The original box is in used condition. Please see the Photos.
The game Rubik's Race (copyright Ideal Toy Coprporation, 1982) is (sort of) a combination of the Cube, Sam Lloyd's 15-puzzle and Battleship. Each player has a collection of 24 tiles (the tiles are each about an inch square), comprising four of each of six colors: blue, green, red, orange, white and yellow. These tiles are placed on a playing surface, which has room for a 5X5 grid of tiles (leaving an empty cell). The player can slide the pieces around, much in the style of Sam Lloyd's "fifteen-puzzle".
The goal for each player is to slide their tiles around, finally arranging the central 3X3 square of tiles (which sort of looks like the face of a Rubik's Cube) into a predetermined "goal" pattern. The final configuration of the outer "border" tiles doesn't matter.
Two players sit facing each other. Between them is the "game-base" holding each player's playing areas. Separating the playing areas is a hinged, vertical "window". When a player completes the target 3X3 pattern on their board, they drop the window onto their playing area (the window covers all but the center 3X3 grid) and declare themselves the winner.
To start the game one of the players shakes the "Scrambler". This is a small plastic box, the top and sides of which are transparent. Inside the Scrambler are nine small dice-like cubes, each side of each die is colored with one of each of the six colors. When the player stops shaking the Scrambler, the dice fall into a 3X3 grid. This is the "target-pattern" which will be the players' goal. Note: If the pattern is impossible (for example, if it shows more than four squares of a given color) the Scrambler is re-shaken.
Related Links:
---
---
Rubik´s Race · The Fastest Game In Town · Ideal Corporation, 1982
Seltenes Rubiks Race, wurde nie in Deutschland verkauft. Vollständig mit kopierten, englischen Instruktionen (Page 1 - Page 2).
Photos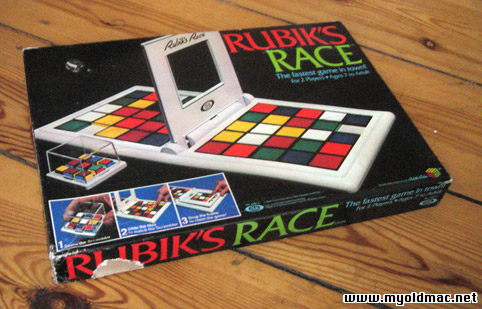 Including the original box in used condition, made in 1982 by Ideal Corp. UK
Mit der original box in benutztem Zustand, made 1982 by Ideal Corp. UK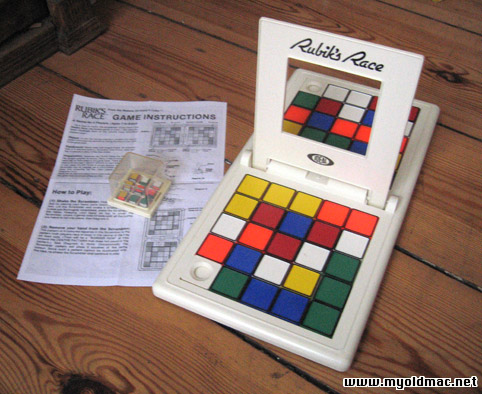 The Rubik´s Race - The Fastest Game In Town...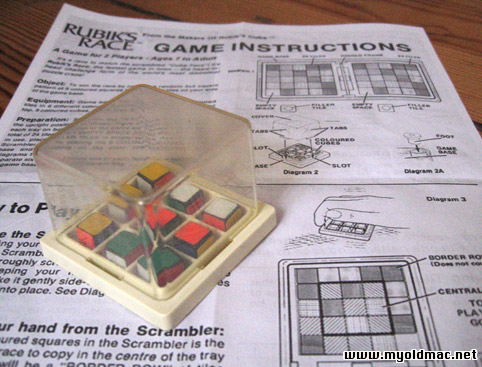 To start the game one of the players shakes the "Scrambler"...
Der Spiel "Würfel" den einer der Spieler zu Beginn schüttelt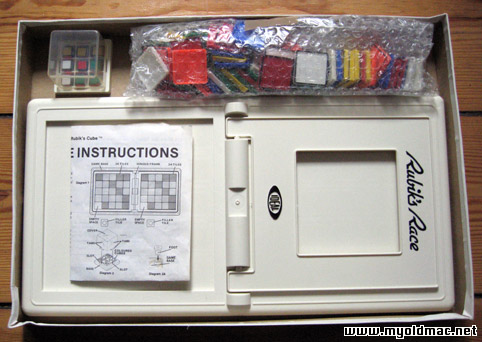 Inside the box - complete with copied Instructions, tiles complete!
In der Verpackung - die Instruktionen sind kopiert, Spielsteine vollständig!