Lesen Sie die deutsche Beschreibung

Texas Instruments TI 99-4A Micro Computer - around 1981
The TI 99/4A comes with the needed power supply, PAL TV Adapter, and the original box. The computer is tested and in working order. See the pictures.
Other TI products at myoldmac.net
The TI99/4a, produced by Texas Instruments in the early 1980's, was a computer purchased by million's of people. With as little as just a basic console and television a TI99/4a was very functional and programs could be loaded VIA a cassette recorder or a GROM cartridge (cartridge with ROM's containing programs). . .
The TI99/4a, which ran on a 16 bit TMS-9900 CPU at 3MHZ, could easily be upgraded with various peripherials and in fact, a TI99/4a clone was even produced called a Geneve 9640. A Geneve replaced the console and provided a CPU running at 12MHZ and provided a vast improvement in speed, capabilities and video... Today the TI99/4a and Geneve 9640's are still in use by hobbists and some businesses!
Hardware Specification:

Processor: 16-bit TMS 9900 running at 3Mhz.
Graphics: Screen resolution of 256x192 in 16 colours. Capable of displaying up to 16 sprites.
Sound: 3 channels and 5 octaves. Speech synthesis with optional add-on module.
RAM: 16K (52K max).
ROM: 26K (command modules can give up to 34K extra).
Keyboard: Full size, 40 key, typewriter style.
Expansion: Module slot for preprogrammed games and utilities.
Monitor socket. RS232 interface. Joystick socket. Cassette I/O socket.
Dedicated interface for peripheral expansion box, (PEB), which gave 8 expansion slots for disk drives, extra RAM etc. Some expansion devices such as the speech synthesiser could be plugged directly into this socket.
Texas Instruments TI 99-4A MicroComputer - von 1981
Der TI-99/ 4A in dieser Auktion ist getestet und funktioniert bestens, kommt mit Netzteil, PAL-Adapter, Handbüchern, Referenzheft für BASIC und in der original Verpackung. Sehen Sie die Photos.
Mitte der 70er Jahre beschloß die Firma Texas Instruments in den aufstrebenden Homecomputermarkt einzusteigen. Auf der Basis der 990 Prozessorfamilie wurde ein Rechner entwickelt, der heute als der erste 16-Bit-Homecomputer gilt. 1979 erschien der 99/4 auf dem amerikanischen Markt. Jedoch schon wenige Monate später wurden aus technischen Gründen Produktion und Verkauf eingestellt.

Anfang 1980 erschien dann der verbesserte Nachfolger 99/4a. Neben einer richtigen Computertastatur (der 99/4 hatte lediglich Gummitasten) hatte er auch ein verbessertes ROM mit 3 verschiedenen Zeichensätzen und diversen anderen Features. So ausgestattet und mit dem Entertainer Bill Cosby als Hauptwerbeträger konnte der TI99/4a innerhalb kürzester Zeit den amerikanischen Markt erobern. Dieser Computer hat im August 1982 sage und schreibe einmal 1248,00 DM gekostet.
Der TI-99/ 4A basierte auf der TI-eigenen TMS-9900 CPU mit einer Geschwindigkeit von 3,3 MHz. Dies war nicht nur eine der ersten 16-Bit-CPUs überhaupt, sondern lange Zeit auch die einzige im Consumer-Markt verfügbare. Als Co-Prozessor (auch dies war damals ungewöhnlich) verfügte der TI-99/4A über den TMS-9918, der die Bilddarstellung übernahm und auch Sprites unterstützte. Als Ausgabegerät ließ sich ein handelsüblicher Fernseher und zum Speichern oder Laden von Programmen ein gewöhnlicher Kassettenrekorder anschließen. In Deutschland stand der TI-99/4A in Konkurrenz zum 8-Bit Rechner Commodore 64, bis der Generationswechsel zu einer gleichartigen Rivalität zwischen Amiga und Atari ST führte.
Deutsche Infos bei: www.zock.com/8-Bit/D_TI994A.HTML
Betriebssystem: Basic
Hauptspeicher: 16 KB
Prozessor: TMS 9900
Anzeige: Videochip TMS 9918A:
Text 32x24x16
Gebaut: 1981 - 1983
Photos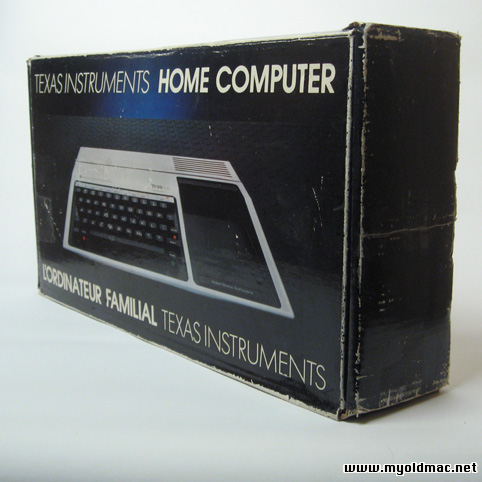 Texas Instruments TI-99 / 4A in origiginal shipping box (used condition)
Texas Instruments TI-99 / 4A in origiginal Verpackung (genutzter Zustand)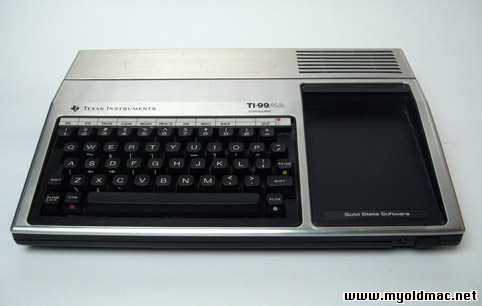 The Microcomputer TI-99 4A - in good condition, some scratches and signs of use
Der Microcomputer TI-99 4A - in gutem Zustand, ein paar Kratzer und Benutzungsspuren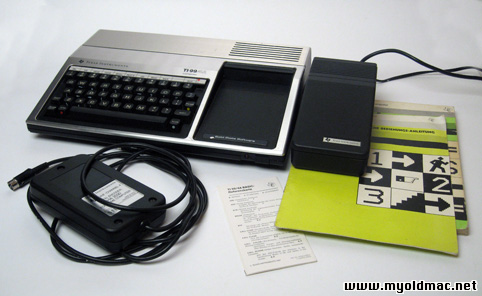 The micro computer TI-99 / 4A and PAL adapter & powersupply, manuals (German)
Kommt mit PAL-Adapter, Referenzkarte für BASIC, deutschen Handbüchern und Netzteil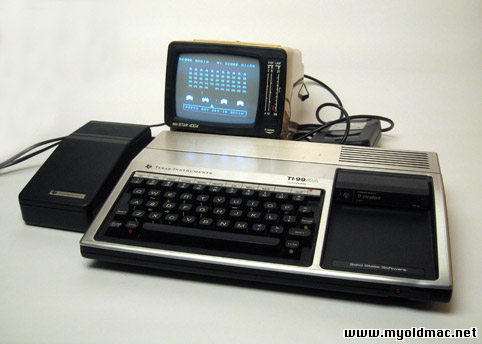 TI-99 4A modul port is tested (sold without TI-Invaders Modul & Display - buy it optional )
TI-99 4A ist getestet. (Verkauf ohne TI-Invaders Modul & Monitor, bei Bedarf optional)