Lesen Sie die deutsche Beschreibung
Terra Hit · Lights/Mechanical · By TOMY build in 1979 -
Here you find other vintage computer collectors items.
Tomy Terra Hit aka Missile / Hit / Missile Strike / Space Attack
(Lights/Mechanical, 2 C Batteries, Model# 7056)
One of Tomy's electro-mechanical games. The battery does power the mechanism via a small motor. The lights in the game are normal, flash-light style light bulbs. Versions called Missile Strike (U.K.), Terra Hit (U.K. and Europe) and Space Attack (Japan).
Related Links:
---
Terra Hit · Lights/Mechanical · Von TOMY, 1979 -
Hier finden Sie meine anderen Computer Sammlerstücke.
Ein seltenes Tabletop, da es ganz durch Elektromechanik funktioniert... keine CPU, kein Display! Alles wird durch Motoren angetrieben. Die Aliens werden in einer Art von Negativfilm über zwei Walzen bewegt. Auch der Hirescore wird mechanisch realisiert. Es gibt nur zwei Lampen die den Schuß und den Treffer anzeigen.
Related Links:
Photos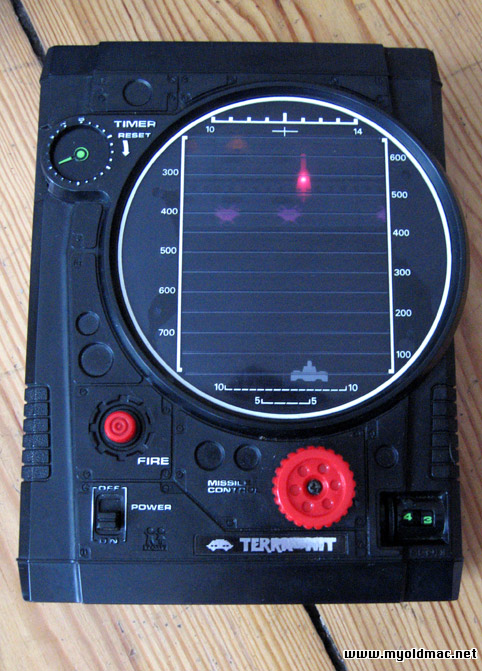 Terra Hit · Lights/Mechanical · TOMY - 1979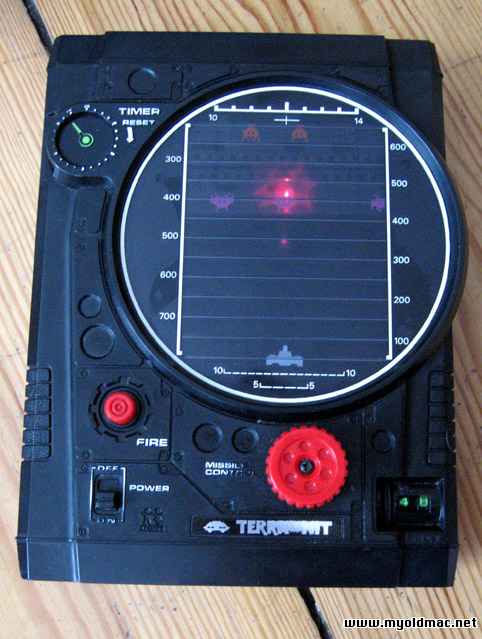 Tested, working fine. Some signs of use on the paintings due to heavy usage :-)
Getestet, voll funktionsfähig. Einige Spuren durch massiven Gebrauch :-)