Vintage 1985 Tomy Crackbot
Vintage 1985 Tomy Crackbot Robot. This vintage Tomy Crackbot Robot is in pristine condition – clean with sharp colors on the front decal. This robot is controlled by handclaps captured through the sensor at the top of the tail. When it bumps into the wall, it turns and goes in another direction (sometime it stucks in the flow). Other actions include: o Swinging arms o Swiveling waist o Searching eyes o Rotating head turns side-to-side and up and down. It is about 7" tall and requires 3 C (R14) batteries to operate.
Crackbot ® / Sucharaka Bot ® manufactured by Tomy ® Crackbot and Sucharaka Bot has a sound sensor located on the top of his spiral tail. You could clap your hands and he would stop, perform a number of movements with his head, then carry on. He moves around in a circle and while doing this his body rotates and his arms swing violently, as if he had loose joints on his body. When a sound was heard, he stops, raises his head up and down while making noises and then moves on.
Related Links:
---
Vintage 1985 Tomy Crackbot
Photos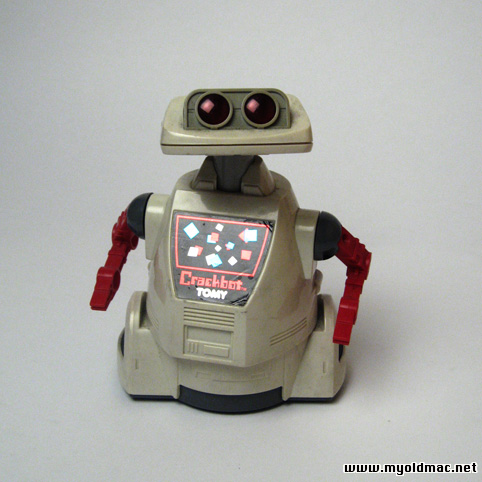 A Video at Youtoube (not from this item)