Lesen Sie die deutsche Beschreibung

Microcomputer VZ200 Color Computer in original Package ! -
Here you find other vintage computer collectors items.
The Video Technology (producer of the LASER110) VZ200 Color Computer (Laser 200, Texet TX8000) is a compact microcomputer with a great deal of capability and many unexpected features at a very attractive price. This computer was a decent price/performance contender when it was introduced in 1982 (I know I'm deviating a bit from the chronological progression of obscure computers in previous columns, now in the late 1970s; I'll return there soon). But being second lowest in price (behind the ZX81) is like being the second-to-last guy picked in the NFL draft.
The VZ200/300 computers employ a Z80A microprocessor running at approximately 3.6MHz. A Microsoft Basic interpreter and I/O routines are contained in 16K of mask-programmed ROM. Included in the computers are user RAM, a PAL colour video display circuit, a VHF RF modulator, a "QWERTY" keyboard, a cassette interface and a simple sound effects circuit. Also included is provision for memory and I/O expansion via two rear edge connectors. Devices which can be plugged into these connectors include a 16K RAM expansion cartridge, printer interface, floppy diskette interface and game joysticks.
Each key on the keyboard provides several functions in addition to typing a single letter, number, or character. All the Basic commands, keywords, and functions can be produced with a single keystroke by holding down a control or shift key while the key is pressed. This is very impressive. Most other computers which type Basic keywords with a single keystroke can produce only an many words as there are keys, i.e., one keyword per key. Each key on the VZ200, on the other hand, produces two Basic keywords as well as one or two graphics characters. So each key actually has five outputs: two Basic keywords, two graphics symbols, and an alphanumeric character.
The VZ200 produces two forms of video output: a video signal for a monitor and RF output (on channel 33) for a TV set. It requires 9 volts DC at 800 ma; an AC adapter is included. Output from the VZ200 can be in one of three modes: text, mixed graphics and text, and high-resolution graphics. In text mode, the VZ200 produces 16 rows of 32 characters (upper case only). Characters can be displayed in regular or inverse video.
Download the VZ200 original Manual here (in Word .rtf format).
SPECIFICATIONS
| | | |
| --- | --- | --- |
| Model ---> | VZ200 | VZ300 |
| CPU | Z80A | Z80A |
| CLOCK SPEED | 3.58MHz | 3.54MHz |
| INTERNAL ROM | 16K | 16K |
| INTERNAL RAM | 6K | 16K |
| DISPLAY RAM | 2K | 2K |
Manufacturer: Video Technology / Sanyo Video, Dick Smith Electr.
External Links:
Emulation of the VZ200

Microcomputer VZ-200 Computer in original Verpackung -
Hier finden Sie meine anderen Computer Sammlerstücke.
Die heute durch Lerncomputer bekannte Firma VTech, hat 1983 mit einer Reihe von Homecomputern ihren Teil zur Computergeschichte beigetragen. Die Computer wurden unter verschiedenen Marken in div. Ländern verkauft, darunter auch Sanyo. Der VZ200 von Video Technology kam 1983 heraus. Der baugleiche Laser 200 wurde 1983 in den USA vorgestellt, in Australien wurde er als VZ200 von Dick Smith Eletronics und in England als Texet TX8000 Color Computer vertrieben.
Neben dem Datasettenanschluss, dem Fernseher- und Monitoranschluss verfügt der Laser über zwei Erweiterungsschächte auf der Rückseite des weißen Gehäuses, über die ein Floppy/Druckerinterface oder eine Speichererweiterung angebracht werden kann. Microsoft Basic 1.2 ist fest im ROM untergebracht, Assembler und Forth stehen als alternative Sprachen zur Verfügung. Mit ca 850 Gramm und Maßen von 29x16x5 (BTH) ist der VZ200 ein absolutes Leichtgewicht, der mit modernen Laptops mithalten könnte, wenn die Laufwerke integriert wären.
Der VZ200 ist für das Niedrigpreissegment entworfen und verfügt über eine, bei günstigen Rechnern nicht unübliche Gummi-Tastatur. Er wurde u.a. auch unter den Namen Laser 200 und TX8000 verkauft. Die Ausstattung mit 4kB Hauptspeicher, einem Piezo-Pieper als Tonausgabe, einem Microsoft-BASIC, 8 Farben und 16kB System-ROM liegt er im Trend der Zeit und ist wohl in der Tradition der TRS-80-Reihe gedacht.
Grafik
Der Rechner verfügt über eine Textdarstellung mit 32x16 Zeichen bei acht Farben. Die Zeichen können nicht umdefiniert werden, sie liegen fest im ROM. Wie bei den Sharp MZ-700 kann man im Textmodus mittels 16 Sonderzeichen Pseudografik mit 64x32 Punkten erzeugen.
Der ebenfalls vorhandene Grafikmodus verfügt über eine Auflösung von 128x64 Punkten bei vier Farben. Dabei muß man sich für eine von zwei festgelegten Farbkombinationen entscheiden, so das die Hintergrundfarbe auf grün oder braun festgelegt ist. Man hatte dann folgende Farbkombinationen zur Auswahl:
Sound
Der VZ200 erzeugte seine Töne mittels Rechteck-Impulsen auf einem Piezo-Schallwandler, so das es eher ein Piepsen, denn Musik ist. Er hat daher nur eine Stimme mit nicht ganz drei Oktaven Tonumfang und acht Notenlängen, wobei diese Grenzen nur durch das Brtriebssystem vorgegeben sind, sprich evtl. mehr Oktaven und Notenlängen möglich waren. Nach außen wurde das Tonsignal nicht durchgeschleift.
Hier kann man das Benutzerhandbuch des VZ200 downloaden (in deutsch).
Klassifizierung : 8-bit non CP/M System
Markteinführung : 1983
Hauptprozessor : Zilog Z80A
Taktfrequenz : 3.58 MHz
Hauptspeicher : 8 KByte (2 KByte Video, 6 KByte Programmspeicher)
Max. Hauptspeicher : 24 KByte (einige Quellen besagen 64 KB)
ROM Größe : 16 KByte
Massespeicher : Diskettenstation (80KB Kap.), Datasette (600 Baud Geschw.)
Grafikauflösung (max.) : 128x64 im Grafikmodus und 32x16 Zeichen im Textmodus, 8 Farben
Soundausgabe : Monophoner Synthesizer über 3 Oktaven, eingebauter Piezo Speaker
Externe Links:
The VZ200 in original package with styropor inlay and power supply and Manual (german).
Der VZ200 in original Verpackung, mit Handbuch, Styropor und Netzteil.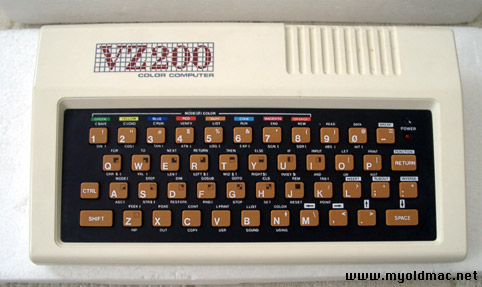 VZ 200 front side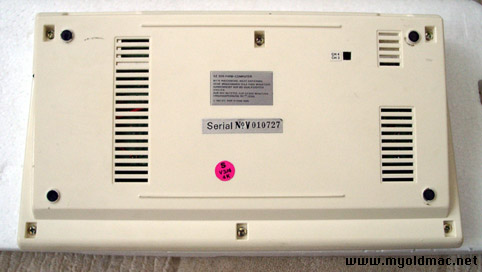 VZ 200 back side - Serial NR: V0 107727
Info about the VZ200 Computer, taken from the package.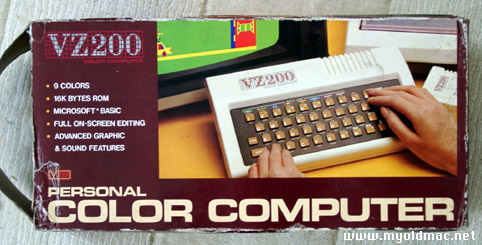 The original package of the VZ-200 Personla Color Computer