Lesen Sie die deutsche Beschreibung
Zodiac - The Astrological Computer Game by Coleco Inc. 1979 -
Here you find other vintage computer collectors items.
A unique computer game build by Coleco - "Zodiac". You can create your own Horoscope with this computer based game. In working order, with German manual, unused data sheeds and original package, all in great conditions. Requires two (2) 9 volt batteries or Coleco AC adaptor. (neither included). Comes in original box (box shows 24 year age, but is still strong and in one piece). Here you can download the English Manual for the Coleco Zodiac. Provided by handheldmuseum.com
DID IT HAPPEN? DID IT COME TRUE? Coleco Zodiac, The Astrology Computer, 1979. Compute your own horoscope for 25 years ago, includes Zodiac computer and instruction book with introduction by noted astrologer Sydney Omarr. Electronic lights and sound effects. 3 operating modes: HOROSCOPE MODE: Complete horoscope and personality profile interpretations. DAILY PREVIEW MODE: Updates for any day you wish. ADVICE MODE: Answers to life's questions, given in computer display readout.
Coleco was a company founded in 1932 by Maurice Greenberg as "Connecticut Leather Company" to sell leather supplies to shoemakers. This led to a business in leather craft kits in the 1950s which led to the sale of plastic wading pools in the 1960s. The leather part of the business was then sold off. The company is best known for producing the video game consoles Coleco Telstar and Colecovision.
Coleco returned to the video game console market in 1982 with the launch of the ColecoVision. While the system was quite popular, Coleco hedged their bet on videogames by introducing a line of game cartridges for the Atari 2600 and Mattel Intellivision. As if that wasn't enough, they even went so far as to introduce the Coleco Gemini, a clone of the popular Atari 2600. (more at wiki)
External Links
Zodiac - Der Astrologische Computer von Coleco Inc. 1979 -
Hier finden Sie meine anderen Computer Sammlerstücke.
Ein sehr seltenes Computerspiel von Coleco "Zodiac". Man kann damit sein eigenes Horoskop ersetellen, obwohl die nötigen Berechnungslisten nicht mehr ins Jahr 2005 reichen - sozusagen mit 2k Bug. Das original Handbuch (in deutsch) und unbenutzte Berechnungsbögen, sowie die Verpackung sind vorhanden, alles in sehr gutem Zustand. Das Gerät ist getestet und funktioniert. Ein Museumsstück.
Die Spielzeugfirma Coleco war eine der ersten, die den Erfolg des Home Pong von Atari mit einem eigenen Nachbau (Telestar) 1976 kopierten. Ab 1981 produzierten sie zusätzlich eine Modellreihe aufwendig gestalteter Handheld Games, die aufgrund ihrer Grösse auch als "Table Tops" bezeichnet werden. Heute gehört diese Produktlinie von Coleco aufgrund ihrer Detailliebe zu den meistgesuchten Sammlerstücken im Bereich der digitalen Spielzeuge.
Photos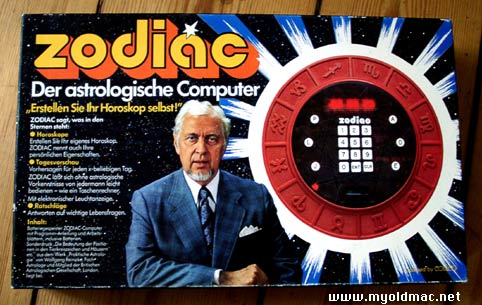 Zodiac by Coleco - in original package.
Zodiac von Coleco - in original Verpackung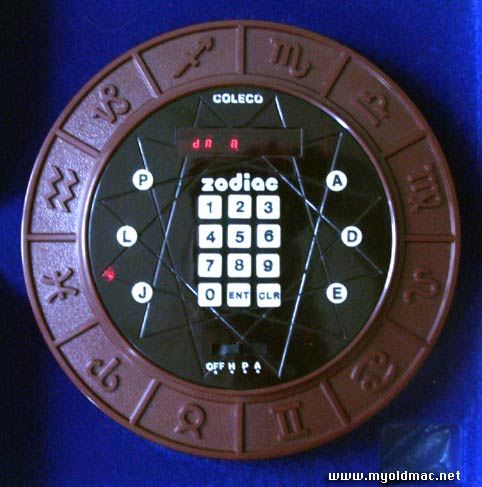 Display by red LED and LCD
Anzeige durch rote LED und LCD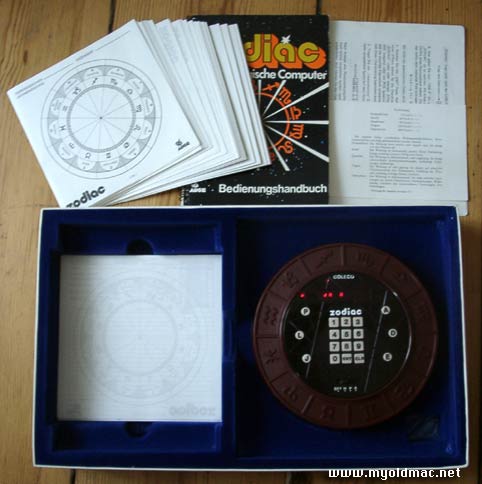 The data sheeds are unused
Unbenutzte Datenblätter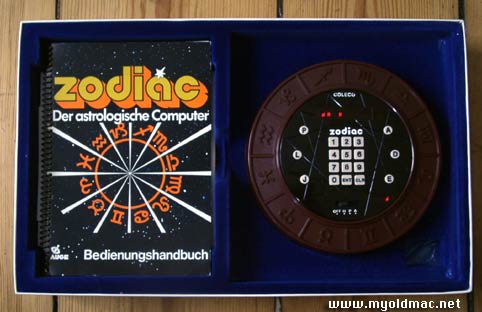 The German Manual
Das ausführliche deutsche Handbuch,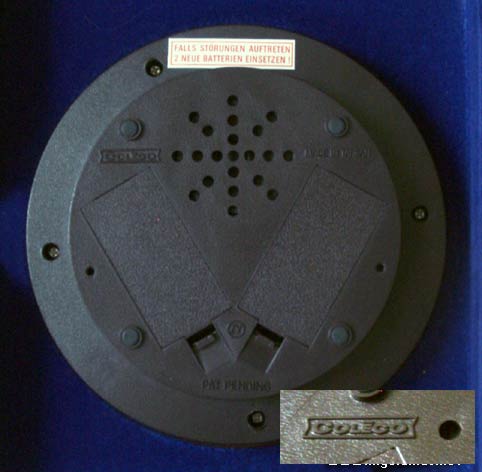 The rear view, battery covers still in place. There is an embed coleco logo
Die Rückseite, Batteriedeckel sind vorhanden. Es ist ein Coleco Logo zu finden