Motorola Processors - various 68k models
Various Motorola processors for Macintosh computers, tested. See the photos.
Motorola MC68030
Motorola MC68882
Motorola XC68LC040
---
Motorola Prozessoren für Macintosh Computer - 68k
verschiedenen Motorola Prozessoren für Macintosh Computer, getestet.
Photos
Motorola MC68030 - 30 Euro*
The MC 68030 provides a code-compatible upgrade path to the MC68020. It offers enhanced performance through additional cache, a memory management unit, and a bursting data bus. More info at wikipedia.org
---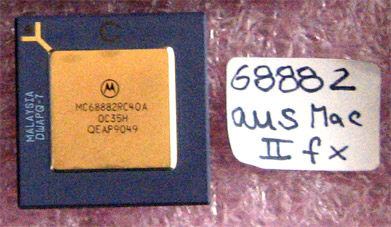 Motorola MC68882 FPU - 20 Euro*
The MC 68882 was an improved version of the 68881, with better pipelining, and eventually available at higher clock speeds. Its instruction set was exactly the same as that of the 68881. Motorola claimed in some marketing literature that it executed some instructions 40% faster than a 68881 at the same clock speed, though this did not reflect typical performance at all.
---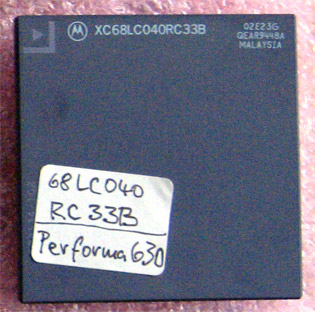 Motorola XC 68LC040 - 20 Euro*
The 68LC040 is a low cost version of the Motorola 68040 microprocessor with no FPU. This makes it less expensive and draw less power. Although the CPU now fits into a feature chart more like the 68020, it continues to include the 040's caches and pipeline and is thus significantly faster than the 020.