QuickShoot - QuickJoyII SV-122 for Commodore, Amiga, ATARI and others
tested, with auto fire option. See the Photo.
History/Timeline:
The translation of human will into machine movement via a single stick may be one of the most overlooked achievements of the last 100 years. "I would say that it was the 20th century's distinctive contribution to the interface between people and machines," said Mr. Tenner, who is author of Our Own Devices: How Technology Remakes Humanity. The joystick is one of the most popular input device used by gamers and simulators. It aids to create a more realistic experience for flight simulators and navigation within programs.
Originating from the Atari game system, digital joystick consisted of 5 different functions: Up, Right, Left, Down, and a fire button. The joystick's connector had a 9 pin D Shell connector which helped the joystick input and output the information from the direction the stick is moved.
At first, the digital joystick was most popular for use at home and soon became the standard joystick from manufacturers. However, since parts and pieces for the joystick were standard and made cheaply, they often broke because switches and the mechanics in the joystick were not durable, especially in arcade gaming. Eventually more buttons were added by using the extra pins that were not being used already by the joystick. The digital joysticks were detected by connecting it to one digital input port, which is then connected to the processor's memory or I/O space. [Source: www.bergen.org]
Timeline of General Input Devices
1868 - Typewriter invented and patented (predecessor to the keyboard)
1960 - Keyboard invented using optical character recognition technology
1968 - Douglas Engelbart invents and develops the computer mouse
1971 - Dr. Sam Hurst researched and produced a prototype for touchpad/touchpanel input device for handwriting recognition
1977 - The joystick that contained a shaft and a pivotal point was patented by Stephen D. Bristow of Atari Gaming Systems
1982 - A small startup company called Mouse Systems Inc. developed and produced the first optical mouse
1995 - MIT graduate, Thomas Massie, invents working virtual reality equipment consisting of gloves, arms and goggles
External Links:
QuickShoot - QuickJoyII SV-122 für Commodore, Amiga, ATARI
Getestet, mit Autofeuer Option.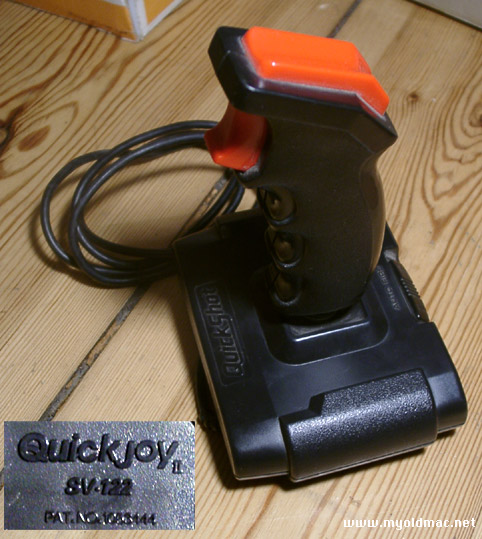 Joystick QuickJoyII SV-122