Disk II Drive Interface for Apple II and IIe, tested
Sold by Apple this interface card is use with Apple II, IIe, II GS and Apple III to connect two Apple 5.25 Floppys. The Interface is tested on a Apple IIe. Works 100 %, on both Floppy drives. Due to its age no guarantee.
Apple II GS History (e) at http://apple2history.org
My favorite Computer.(e).. http://www.rninet.de
---
Original Disk II Drive Interface für Apple II und IIe
Das Interface wird einfach in einen Slot des Apple (normalerweise Slot 6) gesteckt und man kann dann zwei Apple 5.25 Zoll Floppys an den Apple II, IIe , IIgs oder III anschließen. Es arbeitet 100 %, beide Floppys getestet. Wegen des Alters aber wie immer keine Garantie.

Photos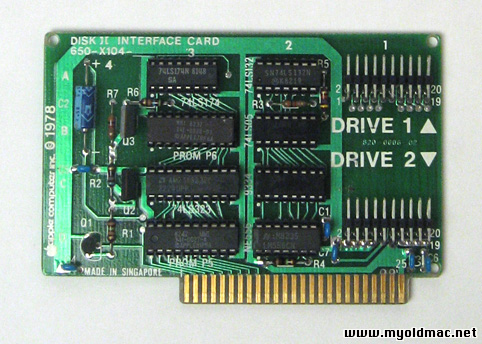 Example picture, item in same condition, tested.
Beispielbild, das Interface ist in gleichem Zustand wie auf dem Foto.