PC-Exchange™ in OVP, sealed - Read PC Disks with your Mac
The German version of PC-Excange, but running on all Systems up from 7.0. Read the Informationen.pdf
PC-Exchange™ in OVP, sealed - PC Disketten lesen mit 68k´s
PC-Exchange (deutsche Version) ermöglicht das Mounten von PC-Disketten. Lesen Sie hier das englische Informationen.pdf. Die Ware ist noch original versiegelt und gut erhalten.
Was ein Käufer sagt: " ...vielen Dank für PC Exchange. Das Programm funktioniert sehr gut. Jetzt ist es möglich, die alten Word- und Excel-Dateien auf meinen jetzigen PC zu übertragen."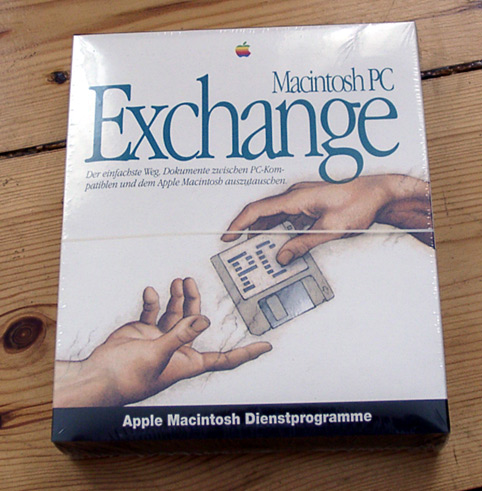 ---
Minimum Bid - Stargebot: 20 Euro*
Buy Now - Jetzt Kaufen für: 30 Euro*

* without shipping cost - ohne Versandkosten

Shipping costs - please do not include in you bid / Bitte nicht in Gebot einrechnen.

De: 7,00 (versichert, bis 5 Kilo)

EU: 18,00 (insured, max 5 Kilo) to 32,00 (rest of Europe)

USA, Swiss, Africa: 38,00 Euro (insured, max 5 Kilo)

Asia, Australia and other: 45,00 Euro (insured, max 5 Kilo)

Before bidding / buying please read my selling rules.
Bitte lesen Sie vor dem ersten Bieten / Kauf meine Verkaufsregeln.