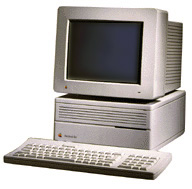 Macintosh II cx
"The Mac IIcx has more potential to be a breakout machine for Apple than even the original Mac II. The latter showed that Apple could slug it out, head-to-head, with the muscle machines of the DOS world. The IIcx shows that Apple has learned to fit that raw power into the world of the office." Jim Seymour, MacUser, August 1989.
Half a year following the release of the Macintosh IIx passed before Apple introduced the Macintosh IIcx in 1989.
Despite resembling the IIx to a great extent, the IIcx was quieter (due to its quieter fan on a smaller power supply) than its predecessor. The design was also made much more compact by reducing the number of NuBus slots from 6 to 3. The new case, Apple's first to be designed to operate in either horizontal or vertical orientation, remained in use for its successors the IIci and Quadra 700. The idea for vertical orientation, one of the first minitower cases, was suggested by Apple CEO John Sculley, who was running out of space on his desk.
The model was designated IIcx for compact (echoing the earlier Apple IIc compact model in the Apple II series), and the x was Apple's designation for the 68030 processor. Users liked the Mac IIcx in part because its components and parts (such as RAM, NuBus slots, and power supply) snapped into place inside the case without the need for screws. At the IIcx's introduction, Jean-Louis Gassee demonstrated the IIcx's modular design by assembling one from parts in front of the audience[2] This made it less expensive to build, easier to repair, and earned it heavy praise and a warm reception amongst the Mac community. This model was superseded by the Macintosh IIci which used the same case.
Related Links : wikipedia.org - lowendmac.com