What the other Steve has to say...
Date: December 2007
Author: Michele Chandler
Published at: www.gsb.stanford.edu
· · M. Chandler ·Wozniak Reflects on Founding Apple Computer · ·
Steve Wozniak has been teasing his fans with the promise of an autobiography for nearly two decades. Finally, he's releasing one in September: IWoz: From Computer Geek to Cult Icon: How I Invented the Personal Computer, Co-Founded Apple, and Had Fun Doing It, which he co-wrote with author and journalist Gina Smith.
---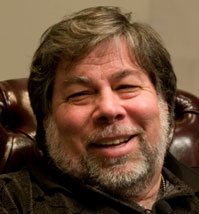 Steve Wozniak, 2007
STANFORD GRADUATE SCHOOL OF BUSINESS —Passion differentiates people who successfully develop new companies, says Steve Wozniak who cofounded Apple Computer in 1976 and went on to revolutionize the computer industry.

"You are not going to be too successful unless it's in your heart and is your passion," Wozniak told a Stanford Graduate School of Business audience hosted by the student Entrepreneur Club. "You want to be the sort of person who can create a company, who can develop a product and service, and then take it to another level."

To get startups through their often-lean early years, leaders also need to be multiskilled and have complementary strengths, Wozniak said. He cited the example of Apple cofounder Steve Jobs, now the Cupertino-based company's CEO. Back in the 1970s, Wozniak had designed a computer for his own use, and Jobs saw potential in selling similar ready-made machines in the broader marketplace.

Even back then, Jobs "wanted to be one of the great people. He had this vision of making companies. He always had the drive and focus," Wozniak told the group. "Me? I just wanted to build the best computer possible. So it was the ideal team—because what I could do he couldn't do, and vice versa."

In 1980 Apple went public, transforming both Wozniak and Jobs into multimillionaires.

Wozniak said that he believes what made Apple successful in comparison to many other startups of the time was that "we had the right people in the right places." "Steve and I were in our young 20s. We had no business experience, no business schooling, and no money." But they did have "a little bit of fortunate guidance from outside people who had been successful,'' Wozniak recalled. Among those was Armas Markkula, the venture capitalist who provided the pair with seed money, credibility, and business savvy.

Garth Saloner, Skoll professor of Electronic Commerce, Strategic management, and Economics and codirector of the school's Center for Entrepreneurial Studies, told Wozniak that while many business school students aspire to create their own companies, they lack critical technology backgrounds. Saloner asked Wozniak: "From the technologist's perspective, is there value in having a partner on the business side?"

"It's absolutely critical," Wozniak responded. "I totally admire the business people. I would not want to be one because…I don't want to be political and direct other people and step on toes and run companies. So, I decided I'd just be an engineer at the lab, hooking up wires and doing that for all my life.."

It's not easy for startups to find engineers with both broad expertise and passion for their work, said Wozniak.

"One out of 10 engineers out there are artists. They're artists because every little piece has to be perfect. They are prouder of what they did than anything the masses would do. But they are good at taking pieces of chemistry, putting things together, and creating things," Wozniak said.
"It's best if you can find an engineer who can cover a lot of the disciplines and not divide it down into one guy will do this design, one guy will draw on paper, one guy will write the manual, another will actually design, another will build it, and yet another guy will test it," he said. "If you can't get that down to one person it's very difficult in a startup situation."

Saying he didn't want his business success to change him, Wozniak recalled important periods in his life: teaching fifth grade students for eight years and how he built his own Ham radio when he was in the fifth grade.

And he talked about having amnesia in the aftermath of surviving the crash of his small plane during takeoff from Santa Cruz Sky Park in 1981. After he recovered, Wozniak said, "I called Steve [Jobs] and said. 'I'm going to go back to school now.' Apple was large enough with a lot of engineers and able to run and get the projects designed and built and introduced to the marketplace without one of the key engineers being there." In 1986, Wozniak finished his undergraduate degree in electrical engineering and computer sciences at University of California, Berkeley. He said he enrolled under the alias "Rocky Raccoon Clark."

Today he continues to connect with young entrepreneurs. "I try to find young people who remind me of Steve Jobs and me when we were starting, and I try to get involved with them and help them out with their startups, their companies, their directions," Wozniak said. "I love being around those things, not the big huge public company realms. My friends are interesting technical people working on neat little things. Sometimes, they are a little bit on the hacker side, but they're the interesting people in the world. They're the ones you'll see movies about."

The speaker series, known as Start Me Up, was developed by the Entrepreneur Club to give students the opportunity to learn about entrepreneurship from high-profile company founders and CEOs.
Michele Chandler