Lesen Sie die deutsche Beschreibung
Alexander´s Star - Invented by Adam Alexander in 1982
The Alexander's Star is in used condition, one orange sticker is missing. Please see the photo. The design of the puzzle practically forces the stickers to peel on the corners. Measures 3 1/4 inches sypherical.
This is an odd puzzle to solve, and never really looks complete unless you know what you're looking for. The puzzle is solved when each pair of parallel planes is made up of only one colour. To see a plane, however, you have to look "past" the five pieces on top of it, all of which could/should have different colours than the plane you're solving.
Alexander's Star is a mechanical puzzle invented by Adam Alexander in 1982. This puzzle is in the shape of a great dodecahedron, which is one of the Kepler-Poinsot polyhedra. As a puzzle it has 12 vertices which are the axes of rotation. There are 30 moving pieces which have two colours each. Each piece forms the edge between two vertices, and five such edges join at each vertex. The great dodecahedron has 12 pentagonal faces, but as these go through the interior of the solid, only part of each pentagon is visible from the outside. The visible part of a pentagon consists of a ring of five triangles. Each ring must be all of one colour, and rings on opposite sides of the puzzle must be the same colour.
72,431,714,252,715,638,411,621,302,272,000,000 combinations - 1 solution
This puzzle is equivalent to just the edges of the megaminx. There is however one minor difficulty with the star because only six colours are used and therefore each colour combination occurs twice. It is not terribly difficult to solve, but this puzzle is infamously hard to twist. It was invented by Adam Alexander, a US mathematician, who patented it on 26 March 1985, US 4,506,891.
I also sell an original Rubik´s-
Cube - Magic - Tangle - Signed Master Cube - Babylon Tower - Link Puzzler and more!
---
---
Alexander´s Star - Erfunden von Adam Alexander in 1982
Der Alexander´s Star ist in einem gebrauchtem Zustand, ein oranger Aufkleber fehlt, an anderen fehlen zum Teil kleine Ecken. Der Alexander Star von 1982 ist benutzt, aber in technisch einwandfreim Zustand. Bitte sehen Sie die Photos.
Das Puzzlespiel is gelöst, wenn jedes Paar paralleler Flächen aus nur eine Farbe besteht.
Ich verkaufe auch noch Rubiks-
Zauberwürfel - Signierter Master Cube - Magic - Tangle - Link Puzzler und mehr!
Photos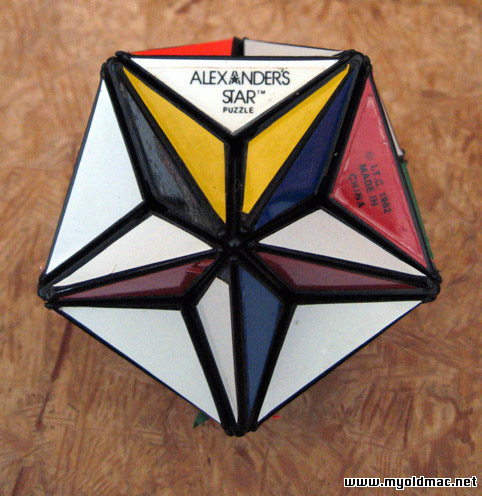 Alexander´s Star in used but good condition. Made by I.T.C. (Ideal) in China, 1982
Alexander´s Star in gebrauchtem, gutem Zustand. Made by I.T.C. (Ideal) in China, 1982