Lesen Sie die deutsche Beschreibung
Rubik's "Cube4" aka "Face4", "Face Four" or "Trikki4" - Rare
Here you can buy a rare Rubiks Style "Cube 4 " Puzzle - aka "Face 4" or "Trikki 4" - complete with its original plastic casing (has some light splits). It was made in Hong Kong by "Masudaya" in the early 1980s during the Cold War era. This was sold in USA, Asia and Europe. It is based on the British Made prov. Patent 18945 from the 1950th - See the photos.
Sounds easy ! - Place the cubes in a row so that the four colours show on every side - it can be done...
The patent is old - this game was sold in the 1950´s under the name THE GREAT TANTALIZER CUBE PUZZLE, estimate BRITISH MADE patent. Later it was released as "Instant Insanity" from Parker Brothers in 1967. In the 1980 it was released by IDEAL TOY CORP. under the name "Face4". This one is named "Cube-4" on the transparent plastic top part of the box. I think it is a 1980´s version made by "Masudaya", Hong Kong.

I also sell an original Rubik´s-
Magic - Tangle - Signed Master Cube - Clock - Babylon Tower - Link Puzzler and more!
---
---
Rubik's "Cube-4" aka "Face 4", "Face Four" or "Trikki 4" - Selten
Hier gibt es die sehr seltene Gelegenheit ein "Cube 4" Puzzle zu erstehen. Kommt in seiner original verpackung (leichte Risse). Man muß zum Lösen des Puzzles auf jeder Seite eine der vier Farben (Rot, Blau, Weis und Grün) haben.

Das Patent ist alt - dieses Spiel wurde in den 1950er Jahren unter dem Namen THE GREAT TANTALIZER CUBE PUZZLE vertrieben, nach einem Britischen Patent. Im Jahre 1967 wurde es von Parker Brothers als "Instant Insanity" herausgebracht. In den 80er Jahren kam es dann als Face4 von IDEAL TOY CORP. auf den Markt. Diese Version ist "Cube-4" benannt, auf dem transparenten Teil der Plastikabdeckung, vermutlich in den 80er Jahren von "Masudaya" produziert, in Hong Kong.
Ich verkaufe auch noch Rubiks-
Zauberwürfel - Signierter Master Cube - Magic - Tangle - Clock - Link Puzzler und mehr!
Photos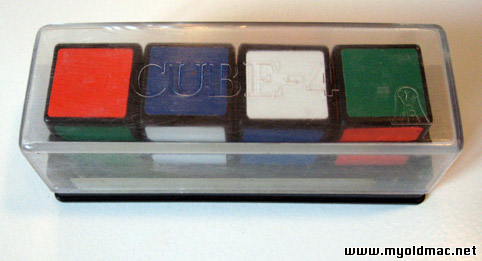 The "Cube-r" in its original box (light splits in the transparent part)
Das "Cube-4" Puzzle in original Verpackung (Haarfeine Risse im transparenten Teil)
---