Lesen Sie die deutsche Beschreibung
Rubik's Cube - Rare "Wonderful Puzzler" in original Box
Here you can buy a rare "Wonderful Puzzler" Rubicks Cube in its original package. It was made in Taiwan in the early 1980s during the Cold War era by diversified Rubik's patent because of the game's popularity. This Clone has the same quality like the original ARXON cubes. One distinct bonus of these original cubes (unlike modern versions) is that the tension of the cube can easily be adjusted. Slowly start to peel away a centre sticker. You will find that the plastic "cap" comes away as you do this.
It seems to be unused, comes solved - Excellent/Mint condition. See the photos.
Good quality early 80's Wonderful Puzzler magic cubes. Strong thick plastic, screws that let you adjust the tension, springs and good vinyl stickers. This cube rotates smoothly and is in unused condition. They're not official Rubik's but Wonderful Puzzler cubes, though much better quality than today's clones. No additional postage for additional cubes, up till three or four it costs me the same anyway and above that it's not much more.
This item would make a tremendous gift for or would be a fantastic addition to any collection - get this excellent piece here for a great price! The original cube is a collectors item and has found its way to the actual MoMA (Museum of Modern Art) in New York! Photo of the Cube at MoMA in N.Y. USA - (not the one sold here)
I also sell an original Rubik´s-
Magic - Tangle - Signed Master Cube - Clock - Babylon Tower - Link Puzzler and more!
43.252.003.274.489.856.000 combinations - 1 solution (info)
The Rubik's Cube was invented in 1974 by Erno Rubik, a Hungarian sculptor and professor of architecture with an interest in geometry and the study of 3D forms. Erno obtained Hungarian patent HU170062 for the "Magic Cube" in 1975, but did not take out international patents. The first test batches of the product were produced in late 1977 and released to Budapest toy shops, although it did not enter the United States or Japan until 1980. Rubik meant to create the challenging cube with parts able to move around a center axis. He painted the faces of the cube different colors for demonstration purposes.
"It was wonderful, to see how, after only a few turns, the colors became mixed, apparently in random fashion. It was tremendously satisfying to watch this color parade. Like after a nice walk when you have seen many lovely sights you decide to go home, after a while I decided it was time to go home, let us put the cubes back in order. And it was at that moment that I came face to face with the Big Challenge: What is the way home?" - Erno Rubik
The Rubiks Cube at

MoMA

- New York
Some 300 million cubes have been sold worldwide since 1980. In Japan, 100,000 to 150,000 Rubik's cubes are sold annually, but sales this year are expected to top 500,000. The Rubik's Cube reached the height of its popularity in the early 1980s, and has since become a pop culture icon associated with the decade. It is said to be the world's biggest selling toy. Erno Rubik became the first self-made millionaire from the communist block. The eighties and Rubik's Cube went well together. Cubic Rubes (the name of cube fans) formed clubs to play and study solutions.
---
---
Rubik's Cube - Seltener "Wonderful Puzzler" in original Box
Hier gibt es die sehr seltene Gelegenheit einen "Wonderful Puzzler" Cube aus den 1980er Jahren zu kaufen. Der Cube ist in gutem Zustand, sowie auch die original Verpackung (siehe Photo des Cubes). Der Zauberwürfel scheint ungenutzt, er ist noch im original Zustand. Der Rubiks Cube hat es schon in die aktuelle MoMA Ausstellung (Museum of Modern Art) in New York geschafft, sehen Sie hier ein Photo des MoMA Cubes (nicht der Cube im Angebot!).
Theoretisch gibt es für einen 3x3x3-Würfel 54!/(9!*9!*9!*9!*9!*9!) = 1,10exp(38) Kombinationen der 54 Quadrate. Der Zauberwürfel hat "nur" 8!*3exp(8)*12!*2exp(12) = 519.024.039.293.878.272.000 =5,19exp(20) Kombinationen, wenn man ihn auseinander nimmt und neu zusammensetzt. Der zwölfte Teil, also 43.252.003.274.489.856.000 Kombinationen, kann durch Drehungen erreicht werden.
Photos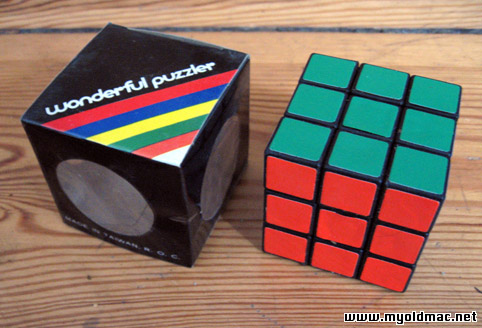 The "Wonderful Puzzler" in its original mint box, both in grat condition
Der "Wonderful Puzzler" in original Verpackung, beides in sehr gutem Zustand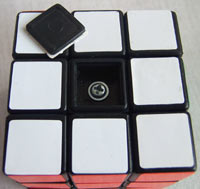 The screw which can be adjusted (slight turn is needed) to suit your speed needs.
Die Einstellschraube um den Wiederstand des Cubes zu steuern. Für Speedcubing.
---
The Rubiks Cube in the actual MoMA Collection in New York (not for sell...)
Der Rubiks´s Cube im MoMA in New York (Steht nicht zum Verkauf)