Lesen Sie die deutsche Beschreibung
Rubiks Octagon Cube by Professor Ernö Rubik
Here you can buy an original Rubik´s Octagonal Prism. This measn that not only do you have to get it into the right shape but you also have to match up the colours. A few stickers have liftet slightly around the edges but nothing major at all, some where reattached. This is a great challenge and the opportunity to buy a very rare item.
Four parallel edges of a black plastic standard size cube are trimmed giving an octagonal prism with eight rectangular faces and two octagonal faces. All ten faces have different colors. Two different colored models sold by Siso Sieber, West Germany. This item would make a tremendous gift for or would be a fantastic addition to any collection - get this excellent piece here for a great price! The original cube is a collectors item and has found its way to the actual MoMA (Museum of Modern Art) in New York! Photo of the Cube at MoMA in N.Y. CITY, USA - © 2005
I also sell an original Rubik´s
Cube - Magic - Tangle - Signed Master Cube - Babylon Tower - Link Puzzler and more
---
---
Rubiks oktagonaler Cube / Zauberwürfe von Prof. Ernö Rubik
Kaufen Sie einen original Rubiks Oktagonal Cube aus den 1980er Jahren. Das meistgekaufte Puzzle weltweit! Der Klassiker für die Kinder der 70er und 80er des letzten Jahrhunderts... Dieser Rubik ist ein Original aus den 1980er Jahren. Der Cube ist in gutem Zustand, aber ein paar Aufkleber wurden mal abgezogen, jedoch sind alle vorhanden (siehe Photo des Cubes). Der Rubiks Cube hat es schon in die aktuelle MoMA Ausstellung (Museum of Modern Art) in New York geschafft, sehen Sie hier ein Photo des MoMA Cubes.
Das Original. Bei diesem Artikel besonders wichtig, da durch das häufige Drehen die Buchsen stark beansprucht werden. Obwohl es 43! Quintillionen (10³°) Kombinationen (und eine Lösung...) gibt, kann das Puzzle mit nur wenigen Drehungen gelöst werden. Aber Vorsicht. Es macht süchtig! Der Zauberwürfel fördert das räumliche Vorstellungsvermögen und das strategische Denken. Dieses Spielzeug fordert den Mathematikprofessor genauso wie begabte Kinder!
Die Meinung des Vorbesitzers zum Rubik Cube:
"Jeder kann´s schnell lernen und irgendwie wird´s nie langweilig - an diesem Würfel hat man also lange Freude und verliert nicht so schnell die Lust. Es regt zum Kommunizieren an - ich finde ihn perfekt. Er trainiert das Denkvermögen und die Konzentrationsfähigkeit. Deswegen ist es, denke ich, nicht nur für Kinder sehr fördernd (wir von der Lehrerin empfohlen), sondern auch wir und selbst die Oma wird gefördert! Wir haben nebenbei immer sehr viel rumgewitzelt und waren richtig aufgedreht. Inwiefern das Spiel daran schuld war kann ich nicht sagen *g* Ein Spielspaß für die ganze Familie, der sicher viele Tage Unterhaltung bringt. Viele Möglichkeiten und langer Spielspaß. "
Ich verkaufe auch noch Rubiks-
Zauberwürfel - Signierter Master Cube - Magic - Tangle - Clock - Link Puzzler und mehr!
Photos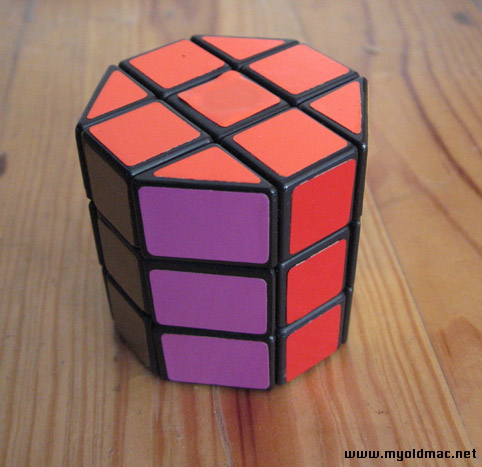 Rubiks Octagonal Cube - 1980th - for sale! Early German Arxon version, soved.
Rubiks Oktagonal Cube, 1980er - zum Verkauf. Seltene deutsche Arxon Version.