Lesen Sie die deutsche Beschreibung

Rubik´s Dice in original package for sale
Author: Erno Rubik ~ Publishers: Rubik / Matchbox
This late-eighties Rubik creation was manufactured by from Matchbox and comes in its original package including the manual. Dice and package are in good condition, please have a look to the photos.
I also sell an original Rubik´s:
Cube - Tangle - Signed Master Cube - Clock - Babylon Tower - Link Puzzler and more!
Rubiks Dice Game Objectives:
Rubik's dice is a black plastic dice 7cm x 7cm x 7cm with circular holes instead of points. There are seven white squared tiles with red circles, which you can lay inside the cube. The tiles directly lying at the holes stick to walls inside. The tiles close the holes in red or in white. The goal is to get all of the dots on each side of the die to be white. Inside the die, there are metal plates that must be tilted into place. If any red is showing, it's wrong!

---
---
External links:
Rubik´s Dice in original Verpackung zu verkaufen
Author: Erno Rubik ~ Publishers: Rubik / Matchbox
Ein Rubik´s Dice (MATCHBOX) in original Verpackung inklusive Spielregeln. Dice und Verpackung sind in einem guten Zustand, shen Sie die Photos.
Ich verkaufe auch noch original Rubiks-
Cube - Tangle - Signed Master Cube - Clock - Babylon Tower - Link Puzzler und mehr!
Rubiks Dice Spielziel:
Rubik's dice ist ein schwarzer Würfel mit 7cm x 7cm x 7cm. Das Innenleben besteht aus sieben Scheiben mit unterschiedlichen rot bedruckten kreisen. Das Spiel (der Würfel) ist gelößt, wenn alle Augen auf dem Würfel eine weiße Farbe zeigen.
Photos
Erno Rubik´s Dice in original package
Erno Rubik´s Dice in original Verpackung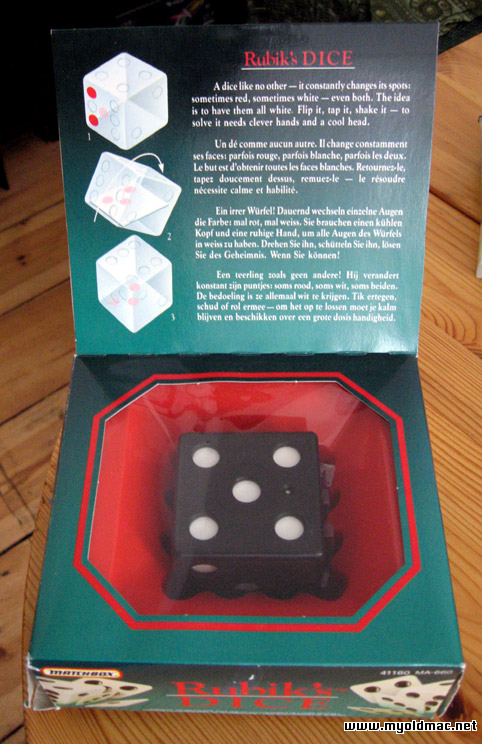 Dice and package are in good condition
Dice und Verpackung sind in einem guten Zustand